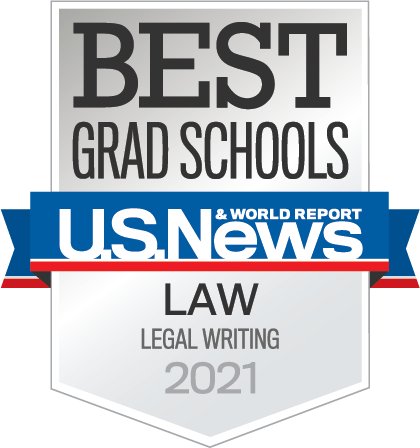 The Legal Research and Writing Program
At the Nova Southeastern University Shepard Broad College of Law, the nationally ranked Legal Research and Writing (LRW) Program offers a student-centered approach to legal writing instruction that integrates legal analysis with practical skills and professionalism. A dedicated, full-time faculty has adopted learning outcomes for a 6-credit sequence that combines instruction in legal research, writing, and analysis with exposure to essential lawyering skills—including interviewing, counseling, negotiation, and oral advocacy. The LRW Program is ranked 2nd in Florida, and ranked 18th nationally by U.S. News & World Report. The LRW Program has long been a point of pride at NSU Law.
The first-year, first-semester course focuses on objective, predictive legal drafting around an issue of state law. Predictive legal analysis is generally done in a simulated inter-office setting. During the life-cycle of a typical file, students: 
conduct legal research
interview clients
draft inter-office legal memoranda
The first-year, second-semester course focuses on pre-trial litigation integrating legal research of federal law, persuasive legal drafting, and analysis with practice skills in each client file. As students work through a litigation file they will: 
draft client communication 
research and write pre-trial memoranda 
orally argue a motion 
Working with client files, students are exposed to a variety of skills. They use electronic course platforms, and are trained to complete electronic research. They are also exposed to lawyering skills including negotiation or meditation. In both semesters of Legal Research and Writing, the primary emphasis is on legal analysis, case synthesis, and mastery of legal research and writing. Ethics and professionalism are also integrated throughout both semesters so students understand the special obligations and privileges afforded to lawyers.
Beyond the classroom, the LRW program also works with local lawyers and judges to host student outreach events on time management, citation, professionalism, and wellness to complement the LRW curriculum and serve students. The LRW Student Outreach Program has been awarded the 2020 Group Professionalism Award by The Florida Bar. The LRW Student Outreach Committee is a special volunteer working group of LRW Faculty designed to target first-year law students by reinforcing legal research and writing skills with a concentration on professionalism. Since 2013, the program has provided an opportunity for NSU Law Students to focus on writing and wellness, citation, oral advocacy, interviewing, time management, ethics and legal networking with local lawyers and judges. Each year, the program offers highly interactive workshops. It also allows upper-level students opportunities for "near peer" mentoring with the 1Ls. The LRW Student Outreach Committee is comprised of LRW Faculty committed to the discipline of LRW and student-centered instruction. At the NSU College of Law, the Legal Research and Writing Program embraces new developments in legal education and active teaching methods to prepare students for the practice of law.
The Legal Research and Writing Program Faculty
Our exceptional LRW faculty members have diverse practice experience and are nationally recognized for their teaching, scholarship, and service. They are active leaders with the Legal Writing Institute and the Association of Legal Writing Directors. In addition to LRW, faculty members teach a wide array of courses, including graduate writing and doctrinal classes. They pride themselves on their commitment to student and community involvement.
Faculty members who teach in the Legal Research and Writing Program include: