We're More Than Just a Law School
Welcome to a world of opportunity. At Nova Southeastern University's Shepard Broad College of Law you'll be trained to not just see the law, but the purpose behind it and the people it impacts—from the small-business owner empowered by tax law advocacy to the patient with a better understanding of their right to health care.
We're putting that purpose into practice. With a small, collaborative community, an emphasis on practical experience, and a commitment to making legal education more accessible and diverse, we're shaking up what law school looks like. Expect more—become more.
Admission Requirements - Pick Your Program
Review deadlines and specific program admission requirements.
Why NSU Law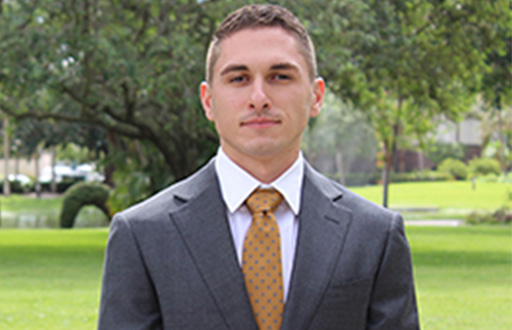 I wanted to dedicate time to my legal studies and simultaneously expand my network and work experiences. The flexibility of NSU Law's part-time program allowed me to do just that."
We Are Here for You
At NSU Law, the admissions team is here to help with your application and answer any questions you may have. NSU Law bridges the gap between knowledge and experience, with faculty who are invested in student success, and an academic community committed to helping you achieve your career goals.
Get Personalized Support
Since each student comes from a unique background, our admissions staff provides personalized support in the application process. Contact us if you have questions.
Personal Conviction, Professional Impact
Put purpose into practice by participating in one of our in-house clinics or field placements during your final year of law school. Receive practical training and experience along with one-on-one mentoring from a supervising attorney. Get the NSU Edge for your legal career.
Fast Facts
TOP 10
Legal Writing Program is Ranked #7 Nationally
#1
Highest Ranked Health Law Program in Florida
TOP 50
Nationally Ranked as Top 50 Best Law School for Part-Time Law Program
TOP 10
Ranked #6 among all U.S. law schools for Hispanics 
#10 IN OVERALL DIVERSITY
As nationally ranked by ilrg.com
TOP 25
Ranked #22 among all U.S. law schools for African Americans
Previous
Next