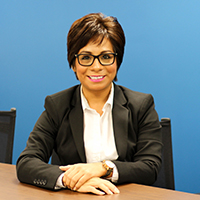 Yesenia grew up as a child of migrant and seasonal farm workers. Her family followed the harvest in communities across North Carolina and Florida. In her early teens the family ceased being migrants and they settled in a small town in the middle of Florida.
Statistics for migrant students in the US indicate approximately three of four never finish high school. Yesenia defied those odds. She continued her education at community college where she was President of Phi Theta Kappa Honor Society and then went on to university to earn her bachelor's degree. Yesenia combined scholarships and part-time employment and graduated with only $1,000 in student loans.
In her senior year she was one of just four students selected by the National Migrant and Seasonal Head Start Association (NMSHA) to partake in a Washington, DC internship. Yesenia was placed in the Washington office of the Mexican American Legal Defense and Education Fund (MALDEF) where part of her internship involved lobbying at the US Capitol on behalf of NMSHA for education reforms to help migrant students. During her internship, Yesenia met President Barack Obama and was featured on NBC Nightly News.
Along the way, Yesenia developed a passion for family law and a strong secondary interest in immigration law. Like most first-year law students, she admits she was both "excited and scared" starting law school but she quickly learned that choosing NSU Law was a perfect fit. Small classes and faculty who genuinely care about students made her feel valued. "I'm not a number or just another student here," Yesenia boasts. She cites her Criminal Law professor Shahabudeen Khan as a teacher who always makes time for her, no matter the issue, and her Juvenile Law professor Timothy Arcaro as a mentor for her family law passion.
Yesenia was elected the 2L class representative to the Family Law Society, where she engages in issues important in family law and works to create opportunities for student networking and mentoring in that practice area. She is also a member of the Stephen R. Booher American Inn of court where she interacts with judges and attorneys in Broward County.
As a participant in NSU Law's Mentoring Program, she developed a mentor in alumna Elizabeth Geary Daugherty, a family law attorney. With Elizabeth's help, Yesenia secured a paid part-time position in Minaya Law Offices, an area family law firm headed by NSU Law alumna Radoyka Minaya, who was looking for a bilingual legal assistant. "There is a genuine need for accessible and affordable Spanish speaking attorneys," Yesenia points out. She is working with her mentors to expand her network, learn what is available in family law practice, and identify the needs.
Yesenia also took advantage of NSU Law's International Programs and opted to study in Granada, Spain in the summer between first and second years. "I needed it," she stated. While completing four courses, Yesenia also got to experience several other Spanish cities, like Marbella, Madrid and Barcelona. One side trip to Morocco helped her to complete an item on her bucket list when she rode a camel. As the child of Mexican immigrants, this experience helped Yesenia to discover the many cultural similarities between Spain and Mexico. Yesenia is considering other international study options and has established friendships with the University of Barcelona students studying at NSU Law through the Dual Degree Program.
"Law school forces you to operate outside of your comfort zone, but I know that my professors and classmates are there for me now and will be there for me even after I graduate," Yesenia boasts about her choice of NSU Shepard Broad College of Law.